Daniel Berholz, President, The Rose Corporation
Attainable homeownership options are growing more and more important each day, as rising prices and tightening new home supply severely limit buying opportunities and locations.
The Rose Corporation is intent on doing something about that.
With – to get further insights into how The Rose Corporation plans to achieve these objectives.
Condo Life: The Rose Corporation seems like a bit of a different real estate company… What is it readers really need to understand about your firm?
Daniel Berholz: The Rose Corporation has had a diverse history over almost 40 years and has had experience and expertise in many forms and tenures of real estate and other businesses as well. Currently, however, Rose is a developer of visionary residential communities (both condominium and freehold) and a developer/owner of purpose-built rental properties.
CL: What is your primary focus in the GTA, in terms of both geography and product type?
DB: Newmarket has been a big focus for us recently. We just introduced Newmarket's first new highrise condominium in more than 30 years – The Davis Residences at Bakerfield. We'll be hosting our Grand Opening sales event on Saturday, Sept. 21 at 11 a.m. The Davis is part of a master-planned community that will consist of other similar buildings which will be high end rental buildings or condominiums.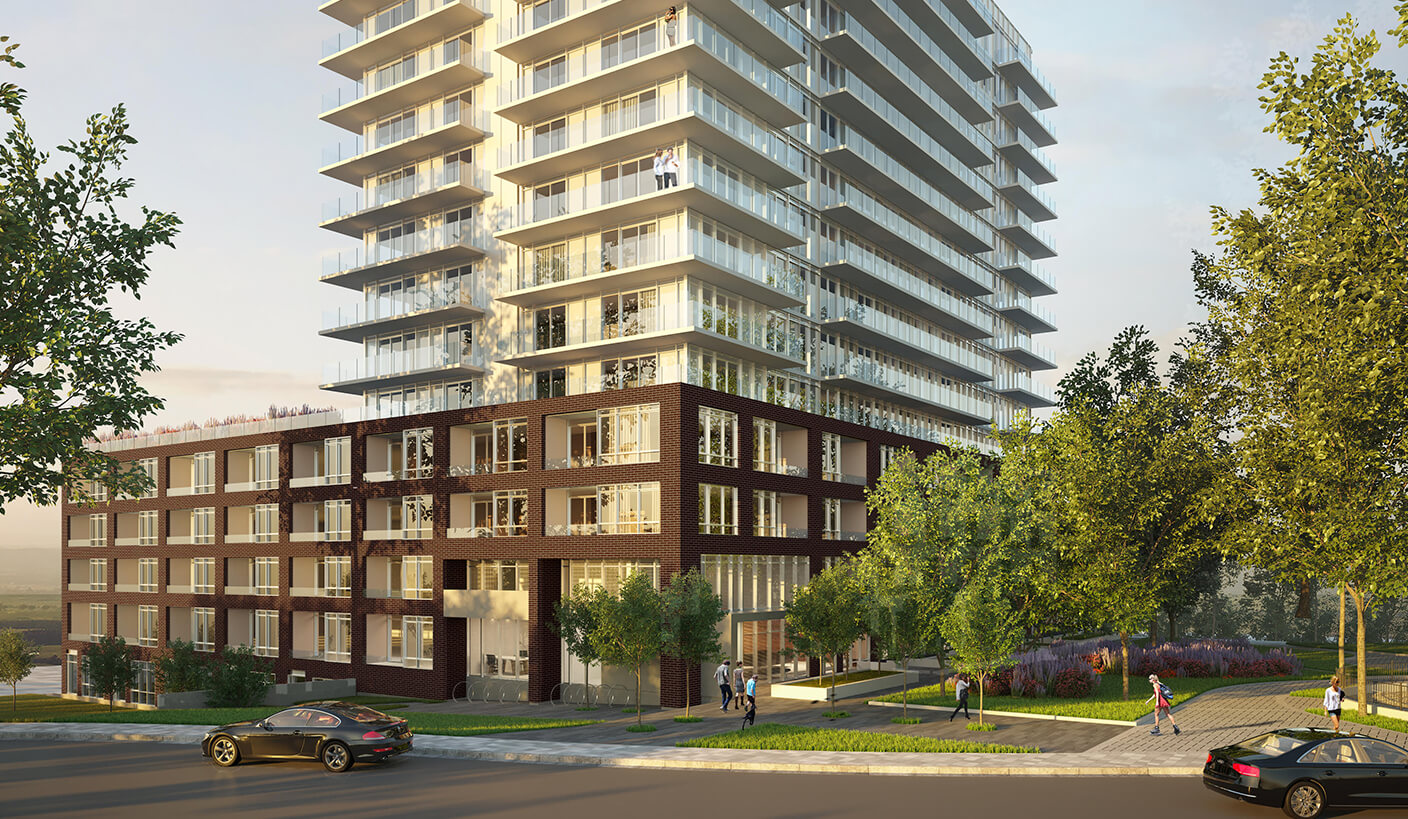 The Davis Residences, Newmarket
Our King George School Lofts & Town Homes development is another community in Newmarket that we're really proud of. It comprises 11 condo lofts within the old school building surrounded by 14 two-storey freehold townhomes.
As well, we recently completed the first privately funded, purpose-built market rental apartment tower in York Region since the 1980s, called 212 Davis Apartments – a 15-storey, 225-unit building.
In Kitchener, we are active in the purpose-built rental development market with the introduction of our first project, Woodside Terraces, which included 103 suites. The second phase will include 91 units and will feature a new wing being built on excess land.
And at 388 King St. in downtown Kitchener, we recently broke ground on a seven-storey, 70-unit purpose-built rental apartment.
CL: Who are your target clients? Purely investors? Homebuilders? Or homebuyers who want to become real estate investors?
DB: Our target clients are homebuyers who are looking for valuable, quality homeownership opportunities. We are focused end-users – from first-time buyers looking for their first home purchase, families who need more room to grow and even empty-nesters who are seeking more maintenance-free housing options with plenty of lifestyle amenities.
Our target clients also include investors who are seeking to diversify their real estate portfolio.
CL: How's the market these days for the products that you offer?
DB: The market is strong for condo developments, which provide more affordable homeownership opportunities for first-time buyers and turnkey options for empty nesters who want to sell their large homes and keep a tidy savings for their retirement.

The Davis Residences lobby, Newmarket
As more people are looking to move out of the GTA due to affordability, municipalities such as Newmarket, that were once viewed as bedroom communities, have been attracting more people to the area because buyers can get better value.
And with companies such as Celestica and York Region headquarters moving into Newmarket, this only adds to the demand of alternative to lowrise housing, such as condos and purpose-built rentals, which are more attainable options for commuter employees seeking to live closer to work.
CL: For residential offerings, affordability and "missing middle" type housing are key issues. How does The Rose Corporation address these issues in its projects?
DB: One of our primary focuses is working collaboratively with all levels of government on all of our projects so that together, we can deliver the type of housing that is needed to provide a complete community in the areas we develop.
Increases in prices for ground related housing have made ownership unattainable for many people over the past number years in Newmarket. The Davis Residences will provide the area the first opportunity to own new quality housing at affordable prices.
As well, Rose's purpose-built rental housing developments provide affordable alternatives within their communities. This includes 212 Davis Apartments in Newmarket. This building leased up quickly due to its attractive and affordable price point relative to other options in the area.
CL: The Rose Corporation was nominated for the People's Choice Award in the 2019 BILD Awards for your King George School Lofts & Town Homes development. What was it about this project that made it so special?
DB: King George School Lofts and Town Homes repurposes one of downtown Newmarket's oldest and most beloved properties. The creation of this trendsetting new address, offering 11 condominium lofts within the old school building surrounded by 14 two-storey freehold townhomes, sets a new bar for innovative design.
Loft homes range from 640 to 1,250 sq. ft., while townhomes offer nearly 2,200 sq. ft. of magnificent living space. Both lofts and towns feature exceptional architecture and finishing features designed to reflect the ultimate in contemporary living. The architecture combines Victorian and Edwardian heritage with modern luxury. The project is set within a lush perimeter of 100-year-old trees, century old heritage buildings and iconic historical landmarks just steps from the historic downtown core of Main Street offering extensive amenities, shops, cafes and restaurants.
CL: What did you learn from that project, or the experience of being nominated for an award that consumers vote on, that you're carrying forward to future projects?
DB: It's always important to validate that what you think you're doing well is widely recognized as such. We are still thrilled to win awards, but that's not what we set out to do. Rose prides itself as an innovative developer.
Our big push now is to develop purpose-built rental apartments and condominiums to address the critical shortage of housing that is affordable that seniors, single and families alike need – and need now.

Left to right, The Rose Corporation's Project Manager David Bannerman; President Daniel Berholz; and Vice-President Andrew Webster.
CL: What's next for The Rose Corporation? Ideally, tell us something that isn't largely publicly known…
DB: What most don't know is that we are growing our executive management team. Rose has been active since 1983, and now a new generation of managers is transitioning as the old guard cedes authority and responsibility.
Fortunately, several senior members will remain with reduced roles. Now we will have the experience of a generation and the energy, skills and enthusiasm that a youthful team brings.
We are very excited to soon announce new partnerships with some experienced and well-known financial entities. These partnerships will allow us to advance our development aspirations with landowners we are in active discussion with.
The geography remains outside Toronto and includes locations in Peel, Halton and York regions, as well as new deals within the communities we are currently active in, Kitchener and Newmarket.